Our second season has Academy Award winning and nominated shorts, Sundance & Cannes winners as well as wonderful gems from rising young new talents. ShortCuts is your VIP Pass to the finest short films from around the globe. In addition our host, director/comedian Louis CK, takes the reigns of MC for each of our nine episodes.

The season includes such award winning films as the Aardman animated, "HumDrum", OscarÆ winning "Quest", O'Connor Bros. & Ted Demme's film debut "The Bet" as well as the short film that launched the feature film "Sling Blade". Together with the films are comedy sketches by our host, director interviews & behind the scenes looks at short film festivals in the U.S.

Please peruse our site and check out what's in store. We hope you'll like what you see. (check our Airdates section for times in your area).

For a look at info relating to our first season of ShortCuts (1998-99), click here.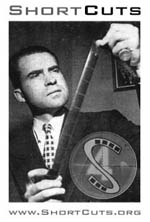 550332 people have visited this site.