"Six Point Nine" Directed by Dan Bootzin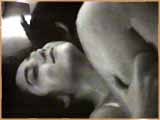 A wonderfully directed comedy without any practical dialogue -deals with how, in urban dwellings, things can get out of hand. Shot in Los Angeles, it depicts a shy man who has to tolerate his neighbor's loud lovemaking while he's trying to go to the bathroom.
"The Debt" Directed by Bruno De Almeida.
Winner of the award at Cannes for best live action short film, this dark comedy pokes fun at thinking positive in the modern world. It features Kristin Johnston (3rd Rock from the Sun) and was shot at the original New York location where the Shooting Gallery had studio space.
Trip on to Episode 3.